Fri, 22 January 2010
Tales of the Justice Society of America #11
Scott and Mike kick this episode off by going through some of the awesome e-mails that have accumulated over the past few weeks. That is, I suppose what Scott and Mike do could technically be called just reading e-mails. Other people might call it a more of a two-man support group as the guys get a whole LOT of stuff off their chests -- which was exasperated by the fact that both of them were in VERY foul moods before they even began recording (these are two grumpy ol' bastids, don't forget!).
Afterwards, they delve into All-Star Comics #67, which, SHOCKINGLY, the verbose ones don't have surprisingly little to say about!!
Are they ill??!! Listen to Find Out!!
And, of course, they love you so there is another hilarious Hostess ad this week -- which begs the question: How precisely pray tell do you steal a F***ing Mountain?!!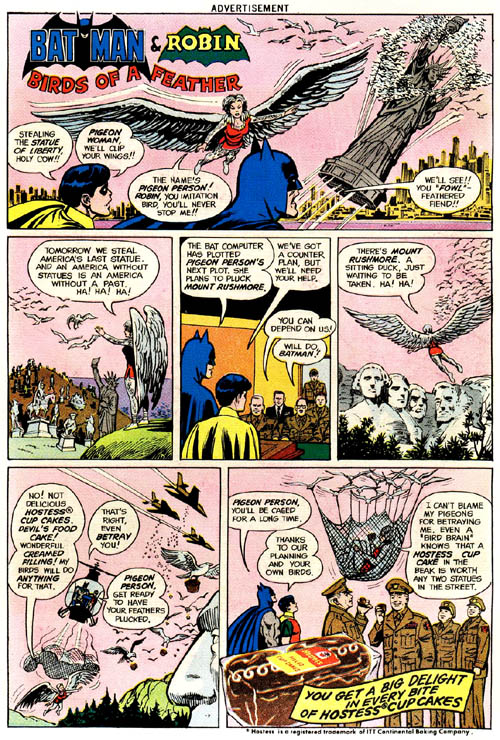 Pigeon Person is stealing the mountain, why is she stealing the mountain?*
*with apologies to William Shatner
Simply The Bestest Podcast You've Ever Heard... or my name isn't William Howard Taft!!
NOTE -- The Two True Freaks! now have a phone line where you can call and leave a completely inappropriate message - We just might use it on the show! It's 585-COP-LURE!! ( 1-585-267-5873 )
Two True Freaks! is a proud member of BOTH the Comics Podcast Network (http://www.comicspodcasts.com/) and the League of Comic Book Podcasts (http://www.comicbooknoise.com/league/)!!
Feedback for the show can be sent to us at twotruefreaks@gmail.com
You can now follow Scott on Twitter at http://twitter.com/NewFun6 and "Friend" him on Facebook!
THANK YOU for listening to Two True Freaks!!

---